Christmas is around the corner which means it's time to get busy planning all the decoration, holiday cards, family picnics and what not. However, in the middle of these chaos, do not forget your children and their Christmas present. Children wait for this special occasion with such patience as if all of their favorite dreams of gifts are going to be true on that day. 25th of December is not only just a Christian holiday but an occasion when children remain up all night, waiting for Santa to come by the chimney and put their gifts, under the mistletoe. So magical!
To make your Christmas more magical, we are listing our top 10 choices as Christmas gifts for children this year. We would recommend going through ALL of them because the all of them are equally exciting.
1.Muffin Sisters blanket and pillow set
These are custom designed small blankets, made exclusively for babies. They come in several patterns and colours. They are handmade African style cloth design and carry a sharp precision. They are made up of the top quality cotton and mink. They also have components of African wax fabric that are well known for their quality of insulation, comfort, warmth and durability. You will find a lot of options regarding shapes, shades, sizes and colours in baby blankets to keep your baby cozy and warm.
2.The Book of Everyone
This is something special and heartfelt gift, a "personalised gift" for the young ones in your life. From a cool message to a cheeky one, these are custom designed to throw some pieces of wisdom. In addition to these gifts, you can surprise the lucky recipient by recording a video message for them after your checkout.
3. African Clothing
Have you thought about gifting your little girl a cute little dress with a ribbon band on her head? If you haven't, check out the fantastic collection of Ankara headbands and African styled colourful gowns and dresses. You will be delighted by their diverse offerings and your girl will rock her kiddi-parties with her "princess theme dress". Hurry up! And check out the collection.
4. Personalised Fund Boxes and More
You know the value of money but how to teach your kids the same thing? You can gift them some unique and specially designed fund box to deposit their coin and cash. This is a unique piece of gift item that helps build character and develop a habit of saving. You can also get the photo frames, dinosaur stamped lunch boxes, pencil boxes and much more.
5. Prezzy Box
Now, as a parent, you must be concerned about your child's education. Well, you can motivate them by gifting them the crafty designed artworks or a beautiful Science kit. This will keep them busy in creative ways and develop their logical skills. These gifts are not only great for the kids but can also brighten up the aura of the bedroom. There is also a whole range of Christmas gifts for children of all ages. You are going to fall in love with their range of Personalised Gifts, and your children will cherish them for years to come.
6. Teepee Tents
These cute tents make up for a perfect hideout spot and cozy play area for your little ones. They can be setup almost anywhere in the house. Available in several colours and patters, kids will love it. Moreover, since these tents come with matching pillows and accessories, you need not worry about getting those things for your kid. Just pick a nice colour and pattern and your kid is going to love it.
7. Dinky Mix
Everyone needs some form of art in their life to value the different flavors and colours of life. Gift your children some beautiful paintings, drawings and graphics quotes, so that they remember the message that you want to give them. You will find t-shirts, mugs, cardboards etc. with some creative graffiti. Choose the best one that connect with your children.
8. Urban African Clothing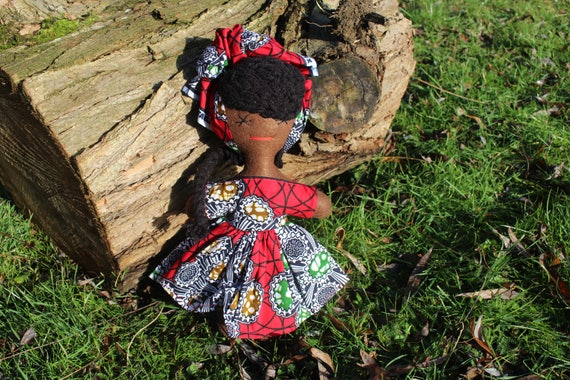 These dolls are made in Ghana and all of them are 100% handmade. This is why every piece is a little different from another. However, this is what gives every doll a different character. These dolls make up for a perfect doll for the kids and when they are done with it, they can be placed in a corner of the house and they will look pretty sitting there.
9. Cute Homely Accessories
Do you like reindeers and polar bears? If you do, then check out this store and you will be blown by the cuteness. They deal in custom designed cushion covers, coffee mug covers with beautiful animal and pattern graffiti. Whether be it a panda or a polar bear, you will get the best of the material. So don't wait more and make your dull cushions, sheets a bright look.
10. Old School Toys
Last but not the least, toys. Every child loves toys. You can gift your little one some personalised toys exclusively designed to have more purpose than just entertaining the kids. From tambourine to the abacus, you will find every kind of exciting toys that offer a perfect blend of knowledge and entertainment. Choose these toys and witness them learn and develop their young brains!
Christmas comes once and as life fades away with each year, every memorable moment created on this day, should be unique. Christmas is an auspicious occasion, but it is the smiles of children that make it a fun-filled festival.